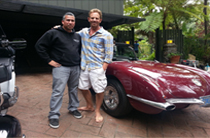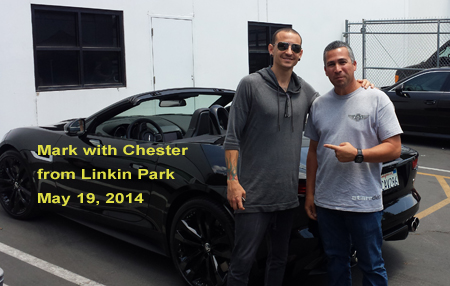 CHESTER BENNINGTON
(LINKIN PARK)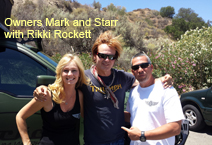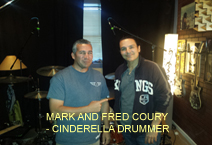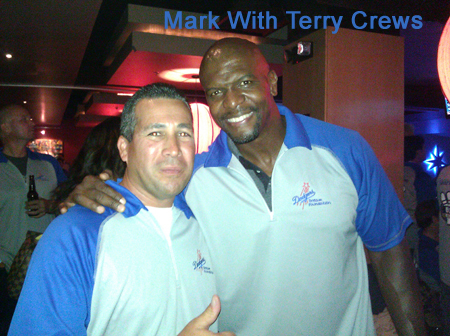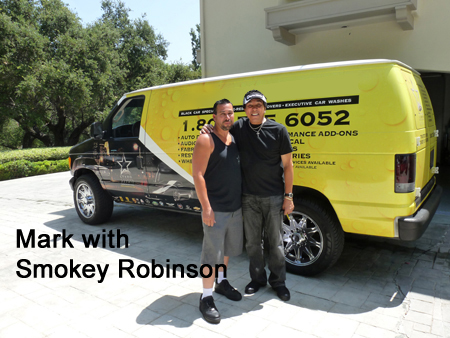 SMOKEY ROBINSON
(MUSICIAN) 
"Your Name Here" Beverly Hilton • Billy Morrison • Ricky Warwick • Dave Free • Jude Law • Steven Mnuchin • Stan Lee • Charlie Wilson •
Chuck Pacheco • Richard Marx • Balthazar Getty • Michael Eisner • Aaron Zigman •  Matthew Perry • Mary J Blige • Andre Gillot • Dan Bilzerian • Demi Lovato • Evan Ross • Ashlee Simpson • Rikki Rockett (Poison Drummer) • Fred Coury (Cinderella Drummer) • Chester Bennington (Linkin Park) • Heidi Klum • Top Gear • Tyrese Gibson • Steve Vai • Martin Lawrence • Drake • Terry Crews • Remo Belli • Elizabeth Ashley • Mia Michaels • Sara Gilbert • Josh Hutcherson • Robbie Williams • William H. Macy • Felicity Huffman • Teri Hatcher • Shannon Brown • Dr. Phil • Daisy Fuentes • Courteney Cox • Usher • Aston Martin, La Gonda Of N. America • Rasual Butler • Vanessa Williams • Warryn Campbell • Wendy Melvoin • Barbara Streisand • James Brolin • Sidney Kimmel • Britney Spears • Meat Loaf • Bridgette Wilson • Molly Sims • Joey House
• Leeza Gibbons
• Julian Mcmahan
• Joey Lawrence • Patrick Dempsey • 5-0 Inc. International • Flo Rida • Michael Eisner • Floyd Mayweather • Anthony Hopkins • Shonda Rhimes • Heath Ledger (R.I.P.) • Dr. Dre
Pink • Pete Sampras
 • Linda Perry
 • Earth, Wind, & Fire • Ben Moody • Slash • Smokey Robinson • David Benveniste
• Luis Miguel • Eddie Van Halen • Rage Against The Machine
• Dancing With The Stars
 • Paul Hunter
• Bryan Herta • Rodney Peete & Holly Robinson Peete • Joe Reegan • Jack Nethercutt • Belasarius Productions (Jag)
• Carey Hart • Pat O'brien • James Ray • Eternal Valley Mortuary • John Ridley • David Lee
 • Ian Ziering
• Wilmer Valderrama • Lindsey Buckingham • Roman Ford Coppola • Mark Romanek • Marcia Cross • Alexis Denisof • Alyson Hannigan • Caron Butler • Jacob Bell, Nfl, Retired • Julia Stiles • Marty Kove
Prompt. Professional. Hard working EVERY week. The best car wash/detail company we've ever worked with.
"While in Los Angeles filming Ugly Betty", Mark and his wonderful staff made sure my cars were not only detailed to perfection but also up to date on any current services that needed to be taken care of as part of the cars maintenance requirements. I wish he was in New York now! But he still takes care of any needs my West Coast based staff and family may have. Very trustworthy and dependable – Mark is simply the best!
Detailers I've used in the past seem to forget the details. This is where Starr shines! Their attention to the details is what sets them apart. From arriving on-time to my home, to the top-shelf professional work, I couldn't have been more pleased. I'm a fanatic about my cars, and Starr has the same approach. They love cars and it shows in their work. I would strongly recommend them to friends and co-workers. [Starr Autoworks] is the best!
Hi Mark,
You have a very professional and easy to navigate web site and testimonials will complete it.  I don't know if testimonials are usually signed when they are posted, or if you will choose to have signatures posted, but should you, I am Annie Braun.  Thanks
Mark Starr and Associates washed and cared for my car for over seven years, until we moved to another state. He is a concerned professional, works quickly and efficiently, gives attention to detail and is very honest.  I recommend [Starr Autoworks] very highly for your car care.
I've just placed my third order with your Company… on three different cars. The reasons are simple: The quality of your work is top notch, and the service and attitudes of your crew are what I expect from a quality supplier.
There are many choices available to improve the finish and appearance on my car. From the many compliments I continue to receive on my Acura, it's clear that I made a sound decision in contacting [Starr Autoworks]. My daughter Nicole (whose Acura you also detailed), has had the same experience with positive comments.
There's no doubt that my friend Julie will be just as pleased when you work on her car later this week.
I make it a point to do business only with suppliers who treat my business with importance, and it's my pleasure to compliment you on taking care of your customers at a high level.
Thank you!
For over two years Mark and his team at [Starr Autoworks] have been trusted to maintain our family's cars.  In this day and age it's hard to find a company that doesn't rest on their laurels or reputation.  We wouldn't hesitate in recommending [Starr Autoworks] to maintain your cars and keep them looking kick ass!!!
I have worked with [Starr Autoworks] for years and my vehicles were always impeccably cleaned.  The service was exceptional.  When I needed them to, they picked up and dropped off my vehicles.  I am a very loyal customer because of Starr's dedication to me.  The first time Starr took a car of mine for detailing, they did several minor repairs.  I was so impressed and delighted.  They did not even want to charge me for the extra work (I just tipped them extra instead).  More recently, Starr has branched into the repair business and they been doing my motorcycle repairs and tune-ups–I have been delighted.  I remain a very satisfied customer.  My life is really much better thanks to Starr Auto Detailing.
I recently purchased a Jaguar XKR Portfolio edition, and want to keep it looking new as long as I possible can.  I do a significant amount of freeway driving,  where my bumpers have historically been beaten up, so paint protection/clear bra was a must for me. I did my homework, and know exactly what material I wanted used on my vehicle. I decided on the VentureShield paint protection film. A quick Google search will bring up several providers that do paint protection, but I now know NO ONE does it with as much professionalism and detail as [Starr Autoworks]. Lines were seamless, and custom fitted to my vehicle to ensure an exact fit.  Jay, the installer didn't like the pre-fab cut,  so he custom cut the bottom piece, and treated the vehicle with the amount of pride a new owner would.
From my initial inquiry to the completion of the job, I felt like my business was valued by [Starr Autoworks], which is hard to find these days. Their professional integrity along with unparallelled customer service and exquisite attention to detail have made me a customer for life – Thank you Mark!
Mark,
I'm been meeting to drop you a note and tell you what a great job Alex and Javier did on our two cars (my black Porsche Carrera and my wife's gray Range Rover) last Saturday.
I've always been hesitant to use detailing services since I usually detail the cars myself and never thought anyone could be as meticulous as I.  Your guys surpassed my expectations.
You should also know that not only is Alex a good technician, but he has great interpersonal skills in dealing with clients.
I will be sure to recommend your company and to contact you again.  (I still thoroughly enjoy the "relaxing" part of detailing my cars, but will also use your folks periodically.)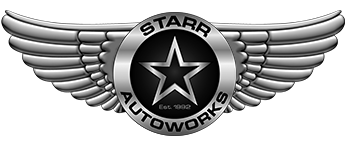 Complete Detailing Starting at $175
Los Angeles, Santa Clarita, Valencia, San Fernando Valley, Hollywood, and Beverly Hills
3317 Pico Blvd, Santa Monica CA 90405